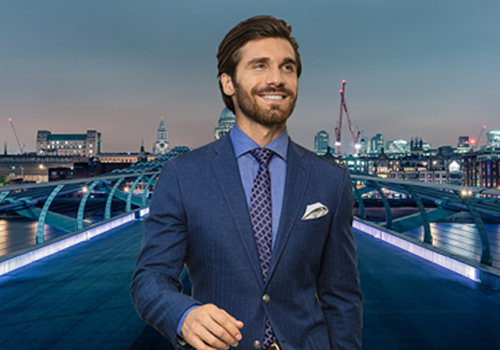 A Gentleman Must Have
"Looking good isn't self-importance; it's self-respect."
—Charles Hix, Author
Modern gentlemen must have a core, a foundation, basic things that are needed in our lives. Gentleman is gentlemen inside and out, inside he has a foundation of chivalry and respect. Outside there are a clothing that every gentleman should have in their possession. Chosen with taste, upgraded over time, the clothes in a wardrobe are an expression of a personal style in any situation. Crisp, clean, and well fitted clothing – wherever you are at in the world – encourages others to take you more seriously. In order to avoid waste, a wardrobe should be built up by identifying what is really necessary and choosing what seems most correct and attractive amongst the various possibilities.
You can ask yourself. Do I have the right pieces? The essentials? The pieces no wardrobe should be without?
Just have a good core of navy blazer, white and blue dress shirts, gray and tan trousers and couple with quality shoes. As long as you have it hanging up in the closet, you'll never be completely out of decent-looking things to wear.
It's probably time to take stock of your wardrobe to make sure.
Every man should own a navy blazer.
One word – versatility. Blazers are a MUST for your wardrobe because they are so versatile and can pair numerous items already in your closet. It will become a central piece of your wardrobe. From casual to formal, blazers can be the perfect addition to almost any outfit to really pull a look together. It also takes alternate forms in different situations, which makes it a truly remarkable garment.
A blazer can be single breasted or double breasted.
If you are of a type that can wear double breasted coats, then go for it. Double breasted jackets should have peaked lapels and either a 6×2, 6×3 or 8×3 silhouette, though a 4×2 or 4×1 can look good as well. While a classic blazer will feature flapped pockets, lately patch pockets have become rather popular.
For single breasted jackets, we would recommend side vents and either two or three buttons. The patch pocket looks more natural, but flapped pockets will work as well. Single breasted blazer looks better with a notched lapel.
Remember the rigid rule that a blazer is not a suit jacket; so you should avoid wearing alike colors. A navy blue blazer does not and will not look good with navy blue or black trousers. Match it with grey trousers, white crispy shirt and black Balmoral oxfordfor more formal look and with tan/beige trousers, sky blue shirt and brown brogues for still classic, but more relaxed look.
The Bespoke Club will create the perfect blazer for your body type, coloring and style preferences.
White shirt
A white shirt is absolutely essential for when you need to look clean and pressed.
The ideal white shirt should fit slim, but not tight, with high armholes and sleeves that skim your arms, shoulders and chest. To this day, white reigns as the most formal color for shirt, and its popularity has safely placed it among the iconic garments a man can wear and will never be out of place.
White and navy have proven to be an alluring colour combination for the modern man, so you will never go wrong matching your navy blazer with white shirt.
Pale/Sky/Powder Blue Dress Shirt
Blue is one of the best shades you should go for when choosing dress shirts. It's a change from classic white, but it is still conservative and formal. Blue is also great to give you a deeper tan complexion and warms up your clothing palettes subtly. Powder blue is your best bet for another corporate staple that works incredibly well with different tie colours and patterns. Pale blue also tends to complement a range of skin tones and hair colours, making it an alluring shirt staple. A proper pale blue dress shirt is a button-up shirt with a collar, long sleeves, and wrist cuffs and will likely be the workhorse of your weekday wardrobe
Grey trousers
The classic gray trousers is a staple of the well-dressed man. As a navy blue blazer, they form the foundation for your wardrobe.
Grey trousers add something a little different to your look – other than the standard black and you can really play around with outfit.
Grey is the most neutral of colors. It matches pretty much any color you pair it with. Whether you're wearing a sports jacket, blazer or a shirt – grey offers the most versatile options for color coordination and provide a complementary backdrop to any ensemble. They work with black or brown shoes, from oxfords to brogues and loafers. Darker grey is a little more sober and tougher to pair while lighter grey can look quite elegant, but are a little less serious-looking. A mid-grey will be most versatile.
Tan/khaki chino
Building a new wardrobe or refreshing an old one can get pretty difficult with the array of options out there, especially when it comes to trousers in seasonal fabrics. To not to be stack while choosing from full of various varieties of it for different season and purpose, make things that much easier with have a go-to, any-season chinos in a neutral shade.
While most of us associate khakis with baggy fit and pleats, the new khaki has undergone, at least by most measures, an update for the 21st-century man.
As with any item, fit is also a huge essential. Since it's a piece that can work casually and in dressier situations, order a trim fit that's not rock-star tight.
Men's dress shoes come in many styles, and each has its place.
The particular constructions and colors are surely a matter of personal style.
Black Oxford
"It is totally impossible to be well-dressed in cheap shoes."
– Hardy Amies
Oxfords are leather shoes with a relatively low instep, closed lacing and a non-rubber sole. Modern oxfords, however, may be constructed from suede or synthetic materials, but no matter the material used to construct them, oxfords are usually quite plain with few — if any — embellishments.
Oxfords are good all-around dress shoes that are appropriate for numerous occasions. If you own one pair of dress shoes, they should be black Balmoral Oxfords.
Brown brogue
Every man needs a pair of super-versatile shoes.
Branch out to other colors and styles later, but for now get a brown shoe you can wear everywhere that'll go with your suits.
The wing-tip, with a brogued cap coming to a point at the center of the top curving back and down along the sides, is in brown – the latter matching very well with navy blazer and grey or tan trousers.