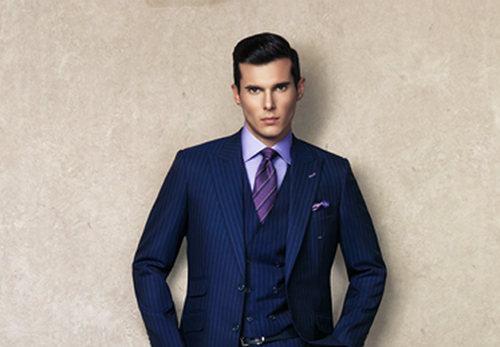 How to wear: The Pinstripe Suit
Yes, the pinstripe is back, (for some it never even left!) and you can wear it without looking flamboyant or mobster.
1. What will separate your suit from the typical Wall Street pinstripe is cut. Nipped at the waist, with slim lapels and a snug fit through the body, it has a shape that's modern and stately.
2. Pick the right colour – medium hue grey looks young and fresh yet packs power. The classic black or navy suit is transformed with muted white pinstripes. Wear it with a grey tie, a white shirt, and a cotton pocket square to keep things classy and sophisticated.
3. Choose your shirt to complement – Patterned shirts and ties work well and refreshes the pinstripe suit style. Prints in combinations of blue, white, and maroon are fail-safe options under navy or grey suits. When it comes to the tie, pick one that either coordinates with the suit. It's all about smart styling!
4. Match accessories to complete the look – Stainless-steel watches help bring out pinstripes. Add on some bead or nautical bracelets to further accentuate your suit while keeping it modern